K. B. Canham is pleased to offer the first motorized 6x17 roll film back for use on any of the Canham 5x7 view cameras (other cameras can be used, but note that we have not personally try this roll film back on any other cameras, but have heard of other photographers that have been able to adapt the roll film back to other cameras). The back is manufactured from 6061 T6 aluminum. Each metal component is machined from solid aluminum blocks. No castings are used. This method of manufacturing assures that each part is made to the most demanding tolerances. The film plane, pressure plate, is flat to within 0.0005 inches (0.0127mm). The back operates on a 9 volt battery. The electronic film winder has built in memory. This permits the user to change batteries mid-roll without losing film position. A low battery warning is incorporated to let you know when it is time to change a battery. The warning lights blink early enough so that the film currently in the back can be completed before you change the battery. Approximately 20 rolls of film may be shot using just one battery.
Here are more specs on it: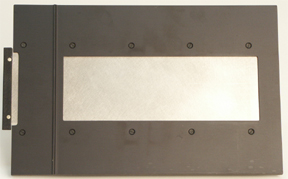 Here is a picture of the roll film back on the MQC57: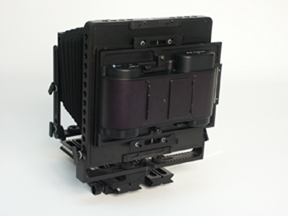 This is done by first focusing the image on the ground glass and then removing the ground glass frame and placing the roll film back in its place via the graphlock system.
On the wood 5x7 you focus your image on the ground glass. Then place a ground glass protector on the camera, and insert the roll film back into the camera like a film holder. The springs in the back are designed for this amount of movement and will not be damaged. Once inserted it should look like the following picture:

Click here for instructions on how to use the back.

Contact any of the dealers on our dealer list to purchase a roll film back.
*Prices Subject to change without notification.
Copyright © 2000-2015 K. B. Canham Cameras. All Rights Reserved
Last updated 05/29/15